the dad horse experience
is a german one man band who bills his stuff as 'european music with american roots FOR america'. '
reach out your hand revisited
' is the lead single from his new album '
eating meatballs on a bloodstained mattress in a huggy bear motel'
...gotta give points for that evocative album title.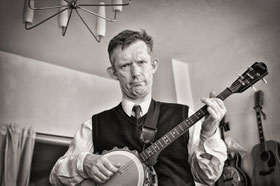 it's an ominous folk tune heavy on creepy atmosphere and and murderous imagery, with a misty backwoods
video
to match. textural mandolin and banjo riffs and slow-ringing cymbals create the loping rhythm. the vocals are lonesome and haunting.
dad horse
has also referred to his music as 'keller-gospel', which i think roughly translates to basement gospel in english. that works. listen and you'll get it.
get '
eating meatballs on a bloodstained mattress in a huggy bear motel
'
here
.